Online learning has got a bad rep over the years, probably because there have been some dodgy eLearning solutions rise and fall but mainly because, like E.T. scoffing brunch at your local bistro, it is still an alien concept to many.
This has led to an online learning vs traditional learning debate and a number of myths about online learning or snap judgements about people opting for eLearning over traditional classroom education. Well, enough already. If it's good enough for renowned top dogs like Nelson Mandela and NBA Basketball icon Shaquille O'Neal - more on that later - then it's good enough for you.
Let's dive in with a literary sledge hammer and smash those myths about online learning out the park...
MYTH 1: I won't have motivation if I don't have a teacher in real life
Classroom teaching isn't the holy grail to motivation, you are
When you think back to your lessons at school, college or university, you may have well been inspired for the first half. But can you honestly say that towards the end you weren't waiting for that 'bell' and longing to get home or down the pub? A paper by Arthur W. Chickering and Stephen C. Ehrmann found that:
"Students do not learn much just sitting in classes listening to teachers, memorising prepackaged assignments, and spitting out answers. They must talk about what they are learning, write reflectively about it, relate it to past experiences, and apply it to their daily lives. They must make what they learn part of themselves."
We're not saying that teachers are not valuable, far from it. The right teacher can inspire you, but what you can get from online training is control. You get to decide when you learn - you can stop, start, pause and replay. No 'bell'. No need for rushed notes and even better you can learn from your bed in your PJs, while you sip on your favourite bevvy and munch on some chocolate. No judgement, no schedule. What's more motivating than that?
See also: How to: stop procrastinating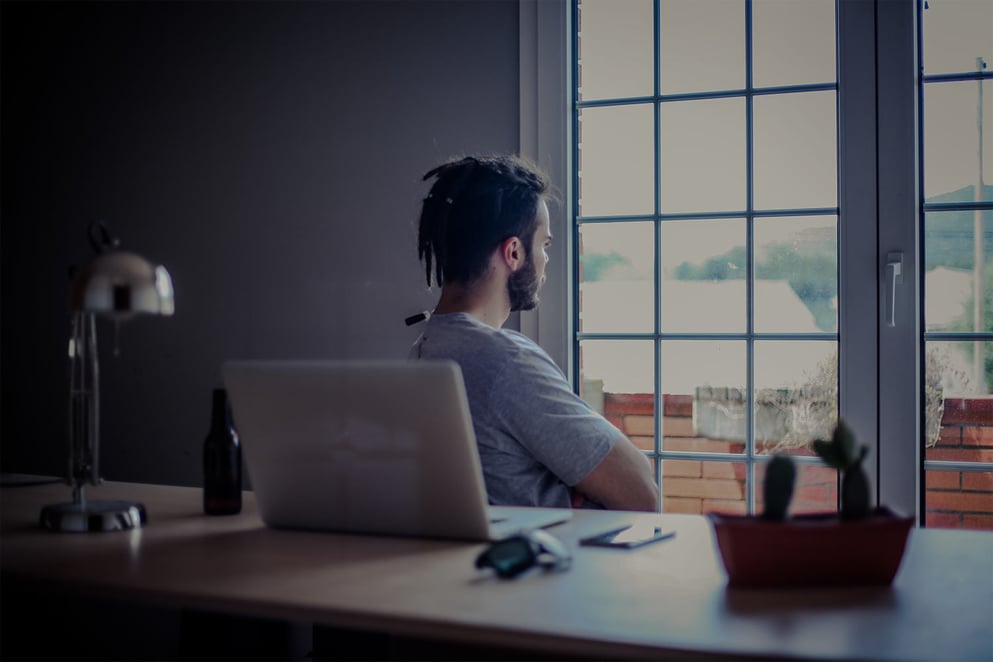 MYTH 2: It's difficult to commit to training online and manage your time
Commitment and self discipline are essential whether you study online or go to university
You may have experienced some hand holding at school or college, but classroom study at university - and beyond - is very much just a small part of your entire learning experience. Heck, some degrees only have you attend lectures for one or two days a week, the rest is home study. Any course you embark on requires self discipline. Plus, learning how to manage your time is an essential skill in life.
A cliche it may be, but when it comes to studying you only get out what you put in, whether that is online or in the classroom. Olympic athlete Jesse Owens, put it best when she said:
"We all have dreams. But in order to make dreams come into reality, it takes an awful lot of determination, dedication, self discipline, and effort."
If you're worried about committing to an online course you may need to review what it is you really want or refocus on the increased opportunities available to you if you were to complete the training. If you want it enough, if you can see that end game, like Miley Cyrus's determination to climb aboard that wrecking ball - no one will be able to stop you.
MYTH 3: You have to be computer savvy to do online training
You don't need to be a computer genius, but you do need to know the basics both online and in the classroom
If computers are your everest and you have an actual phobia then eLearning may not be for you. But if you know enough to make it to this blog post, click and scroll then you have nothing to worry about. Most online courses are easy to use with the right guidance. Everyone's learning experience varies and each individual will require different levels of support, so you're welcome to contact our StudentCare team as much as you need to. Yes, real humans are here to give you a helping hand if you need it.
All of our training is completed online, either through our learning platform, delivered by Skillsoft, Code Institute or the Digital Marketing Institute. You do need a computer or tablet with internet access to carry out the training, but wherever you have access to the internet, you have the flexibility of working on the go. In the meantime, if you want to swot up and improve your computer skills you could check out this article on 10 things you need to know to be computer literate.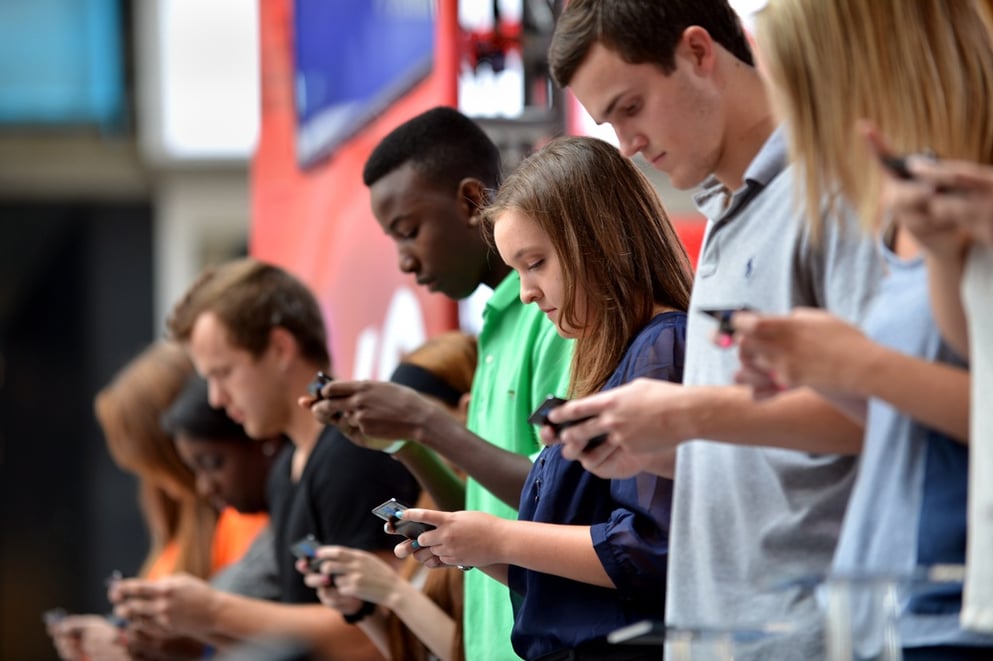 Image source: National Journal
MYTH 4: Online learning is just for millennials
ELearning isn't just for millennials, it is for anyone with the desire to learn
If you were born between 1980, or arguably 1977 and 1992 then you're officially part of the millennial generation. But sod that, millennial schmillenial, we are all merging into one entity these days. Something that co founder and CEO at experiential agency Magnetic, believes whole heartedly. In an Adage article Brian Schultz explains:
"The thing is, it isn't just millennials. The interesting trend I'm seeing is that these traits are bleeding beyond this demographic. Millennials are proving to be cultural trailblazers for older and newer generations."
Generation aside, what really matters is the way you learn best. The way you, as in individual, absorb, process, comprehend and retain information. Educational theorist Neil Fleming's VAK model of Student Learning includes four learning styles:
Visual - graphic organisers, images, charts, colour codes, graphs and diagrams
Auditory - recorded notes, discussion, out loud re reads, peer groups
Reading/writing preference - writing, rewording and translating images to statements
Kinesthetic - real life case studies, abstract concepts, experiments and images
All of which can be applied through eLearning. There are also common desires across generations that can be met through online learning, which include self improvement, autonomy and flexibility. Whether you're a Baby Boomer, Millennial, Generation X, Y or Z - if you want to learn and notch up your qualifications in your own time, then online learning is for you. Simples.
MYTH 5: eLearning isn't as recognised as a qualification
Online qualifications can be just as legit and respected as traditional training qualifications
What a load of falafel. Well, it's not true for us at least. While there may well be some questionable online learning websites out there. If they're professionally accredited, like us, then you should be good to go.
For added reassurance there are plenty of famous people who have done online courses. NBA Basketball legend Shaquille O'Neal obtained his BA through distance learning courses at LSU in 2000, went on to earn an MBA through online courses at the University of Phoenix in 2005 and most recently received a PhD in Leadership and Education at Barry University. After his MBA he said:
"Sports for me has always been, you know, fairy tale life. And this right here is real life. This right here means more… it's just something to have on my resume when I go back to reality. Someday I may have to put down the basketball and get a regular job like everyone else."
Nelson Mandela completed a Bachelor of Arts degree, correspondence style, through the University of South Africa. As no stranger to distance education, while incarcerated, the Nobel Peace Prize winner studied for a Bachelor's in Law from the University of London's External Degree Programme.
Get an extra notch on your CV bed post
"Online education is becoming more than a cheaper or less time consuming alternative to traditional education. Viable online degrees have been available for more than a decade. Now, online mentorship programs, also known as "online bootcamps," are providing students with programming and design skills that take less time to obtain than in a traditional college setting and lead more directly to jobs"
Kendall Bird, Online Community Specialist at Collegis Education
Learning is learning. Whether that is online, in the classroom or knees deep in a giant pit of nutella... what? It could happen. Choosing between traditional learning and online learning usually comes down to time and commitment. If you want flexible schedules that can fit around your life, family and other commitments, a commitment that can swish with the tide of your life as it twists and turns in unexpected ways, then online learning is for you.
ELearning is no longer the little guy. As Allison Hiltz, former online and traditional education student and writer for The Book Wheel Blog, put it "Each student learns differently and in today's era of increasing technology, the question will not be whether to offer classes online, but rather how to implement them,"
In the words of Nelson Mandela himself, however you choose to do it...
"Education is the most powerful weapon you can choose to change the world."
We hope that our myth busting facts about online learning helped to put it all in perspective for you. You might also want to check out our article on the benefits of online learning.