So, your boss has given you the task of coming up with some team building ideas. You have two options here, you could just go for a meal, some drinks and hit a club - sigh - or go all out and do something different - yay. If you couldn't tell already, we vote for the latter.
Step away from yawn inducing classics like the pub or 'trust circles' and definitely avoid any activities that invade personal space or alienate less active colleagues. Whether the idea of team building makes your shudder or gives you excitable tingles, we have some alternative team building activity ideas that will shake things up a bit and get you some bonus points - not just from the boss, but from your colleagues too.
See also: Top 10 office pranks to perk up the working day
Flex those mind muscles with an escape room

Image source: handmademysteries.com
Do you have fond memories of Richard O'Brien in a leopard print suit leading people excitedly through the Medieval Zone whilst you shout: "There isn't time Sally, get out of there quick!"?
Or perhaps you only recently discovered the delights of The Crystal Maze with The IT Crowd's Richard Ayoade, when you sighed with relief at Louie getting locked in, or looked on aghast at Joey's ability to actually win crystals. Well, hold on to your jumpsuits, you can show Sally how it's done.
The Crystal Maze has always been the big momma of escape rooms, which is basically a game challenge where you team up and solve the clues to escape the room. However, since the show hit our screens in the 90s, there have been hundreds of escape rooms popping up all over the country. Here are a few options to get you started:
Some of these escape rooms are also based in pub locations, so you can make a full night of it with grub and drinks to celebrate your win - or commiserate your loss - together. You could even set up an escape room league and work your way around escape rooms in your area as a wider team challenge. Effort - but worth it for the glory.
See also: 10 coolest office in the world with a unique twist
Get wild and fiery: Wild camping and fireside team bonding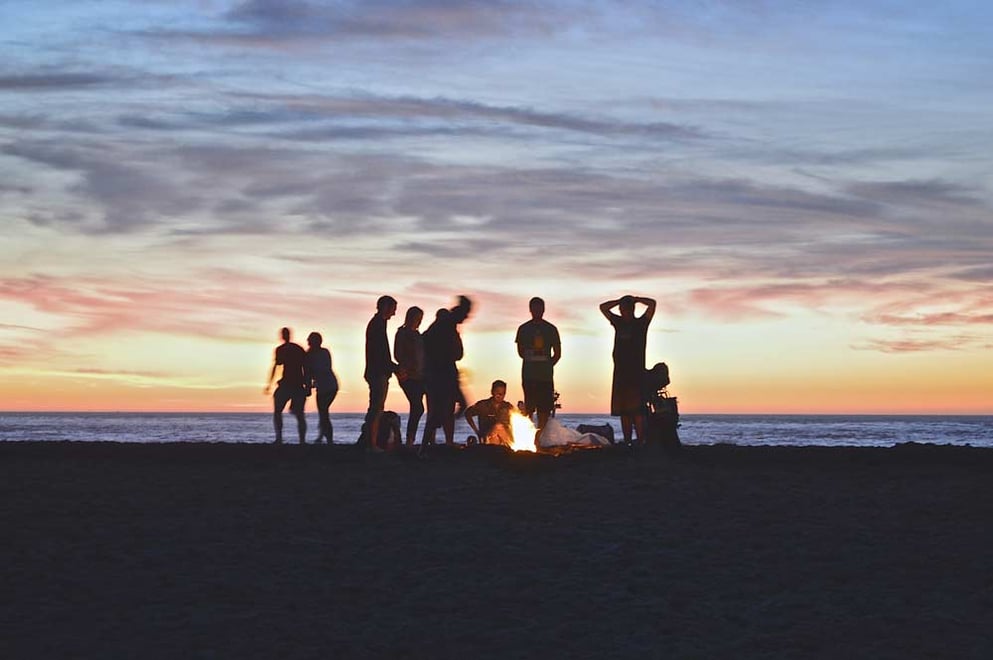 There is no better way to truly connect and inspire team bonding than over firelight. You could organise an evening bonfire and BBQ on the beach, or head for a wild campsite and get away from it all together. Wild campsites like Dernwood Farm in Sussex offer pitching, bell tent or safari tent hire, which is great for large groups and comfortable enough for any colleagues not so keen on camping.
Whether you opt for a getaway or a beachside chillout, there is bound to be one dude with a guitar to instigate a singalong. Could be cringe, but just go with it #Kumbaya - if you aren't into music, try some ghost story antics around the fire. A low key way to inspire some team bonding that will do much more than yet another pub crawl. Just be careful not to accidentally set alight your most hated colleague or inflame your boss's not so well hidden toupee.
See also: 8 cool company perks to make you jealous
Survive the end of the world with a Zombie experience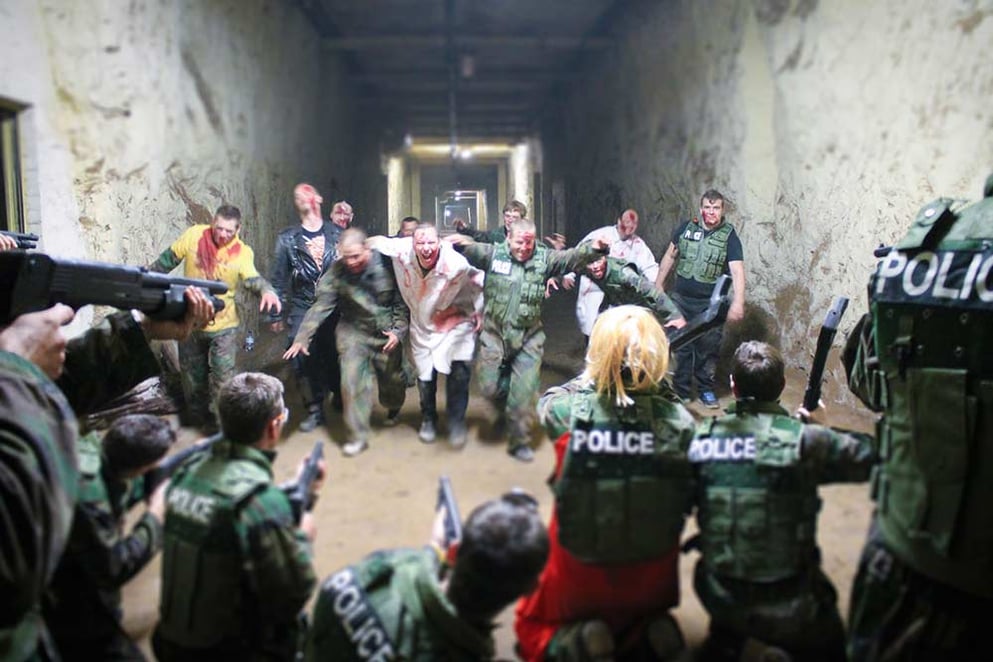 What better way to bond with your team than banding together to survive an onslaught of reanimated corpses - no, we don't mean the IT department, we're talking about zombies silly. Zombie Experiences run 14 different experiences from London to Liverpool, so there are plenty of locations to choose from and opportunities to go back in 'for the kill' ;) if it's a hit.
Amongst the chaos and the alarm, there exists a small band of warriors - [cough] that's you lot - those who are willing to face the fear and battle the zombie apocalypse for the good of mankind - yes, you again. Basically there's a load of zombies in a cool set and you get to kill them, within the parametres of the game of course - not for real. Remember, there are actors under those masks. #potentialHRdisaster
Do you think your team has what it takes to embrace the horrors of the zombie apocalypse? Yeah, why not. Besides, it's probably not far off your idea of a night out clubbing with your colleagues really, except you get to obliterate these zombies.
Be brave and get creative with some Flash mobbing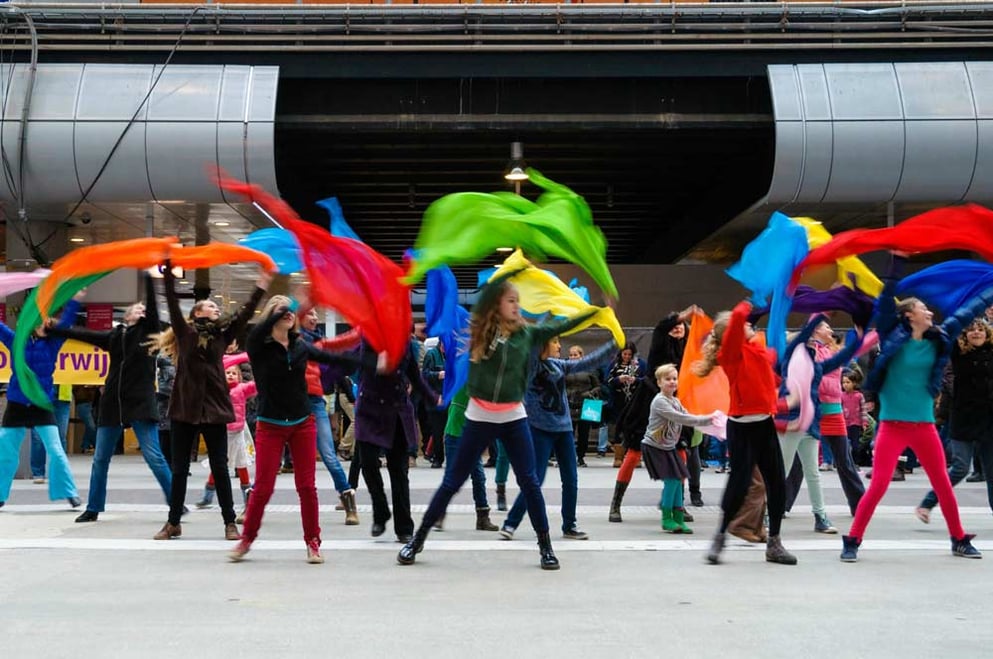 Oh, the classic flash mob. If you haven't witnessed one of these yet, then give it a quick YouTube search. In essence, a flash mob is a large group of people who gather in public and spontaneously perform a dance or act before they quickly disperse.
In the corporate world, well in the US at least, it's known as 'Flash Teaming'. An experience offered by team building company TeamBonding, a company with an impressive client list that includes Ford, Coca Cola, Google, McDonalds, Disney, Starbucks. If you're looking for a UK equivalent you could check out London based performing arts company Living the Dream.
They aim to motivate, boost energy and build up group confidence and trust through their interactive dance workshops, which range from street dance to Michael Jackson.
When you announce this one to the team just make sure they don't get confused and end up donning a raincoat as they flash at the passing crowds - yet another HR nightmare.
See also: Office jargon: decoded
Now, do a Paddy and put the power in their hands
The things is, we are all different and enjoy different things. What you think is an amazing idea could be someone else's nightmare.
The best way to make everyone happy is allow them to have a say. Either pick four or five different team building activities and get everyone to vote, or create an anonymous ballot box and get everyone to input their ideas for team building. As we said, not everyone will like the same thing, but at least you can go with a majority or consider rotating the activities so that they all get to do something they enjoy - most importantly they will feel empowered having a say.